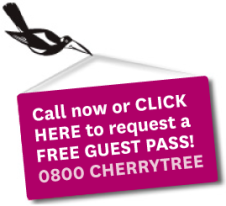 What our members say
Whilst we believe we have a fabulous club, our members are our best advocates. Here's what some of them have to say about Cherrytree.
Nicky and Stephen W, Tawa
We're a family of four, plus one cat…initially my husband was a bit dubious about joining Cherrytree, so I decided to track our expenditure in a spreadsheet to prove that it was a sound decision.
And the figures don't lie…we have saved thousands of dollars on our normal household purchasing. We've absolutely no regrets about joining Cherrytree.
We work hard for our money and our membership makes those hard earned dollars go a lot further.

Grant R, Porirua
I've been blown away by the savings I've made through my Cherrytree membership in such a short time.
I'm buying either what I'd normally buy in the shops and in some cases better quality product than I could usually afford because of the Cherrytree pricing.
Add the great service I get when I visit the Club, and I really don't think there's a better shopping experience anywhere on the planet.
Thanks guys!
Laura T, Christchurch
We have been Cherrytree members for about 4 years now and have saved $1000s.
It was great when I was pregnant as I could get all the high quality products for my nursery at a fantastic price.
We saved $400 on our stroller system alone!

Lisa T, Wellington
We have recently renovated our home, adding a second storey and purchased all of the new appliances through Cherrytree.
Their prices couldn't be beaten by the retail stores and of course no one could compete with the service we received from the CT team throughout our project.
We continue to enjoy shopping most weeks at the showroom to get the best prices on everyday products.

Ros & Lindsay J, Hutt Valley
We have been members of Cherrytree since its introduction to Wellington some years ago and ever since we have been delighted with that decision to join.
Not only have we saved heaps of money when we built our new home (on a miriad of things such as lighting, tiles, furnishing and appliances), but we have learnt that we can always rely on a thoroughly enjoyable experience whenever we visit Cherrytree.
We find that our ongoing purchases continue to deliver large savings on all sorts of things, for example, many of our household cleaners.
As well, we often find wonderful gift ideas on the Cherrytree shelves where we enjoy browsing on every visit.
As well, we are the happy recipients of a regular discount at one of our favourite Wellington cafes: the savings we make here are enough to pay our yearly subscription alone!

MH –Paparangi, Wellington
What a great way to shop for quality products; sit down for a nice cup of coffee and go through the catalogues in your own time.
If you can't find what you are looking for, there is always somebody at hand to help you. And not forgetting the showroom – there are always some great bargains there.

Mark F - Wellington
Our Cherrytree membership means huge advantages.
We no longer have to hunt around town for the best possible price, or look for sales.
There is no need to purchase items in bulk just to access good prices...and the Cherrytree staff are always friendly and helpful.
It's really something to be able to shop in such a relaxed environment.

Alison R – Otaki
We wouldn't have bought this brand (of bed) ordinarily as we simply couldn't have afforded to pay retail for it.
Thank goodness for Cherrytree I say! It's enabling me to live to the style that I'd like to become accustomed to!

Erica D, Christchurch
During the first six months of becoming Cherrytree members, we saved $2500 on our kitchen tools and household needs.

Jim and Sue A, Christchurch
We love the savings we can make on daily use items – cleaners, pool supplies and underwear.
Other savings are a bonus – well worth the membership fee.

Sharon H, Christchurch
Since joining Cherrytree, I have saved $4000 in the first 2 years and since then over $1000 each year since.
It's a great way to shop.

Kim G - Spencerville, Christchurch
We have saved heaps by choosing to purchase items for our home through Cherrytree - curtains , appliances for our new kitchen , paint and even our dog's food.
We really hate paying full retail for anything since joining Cherrytree.

Don & Alison M - Christchurch
We are currently building a new house, thanks to Cherrytree we have already saved more than twice our joining fee through the savings at PlaceMakers alone.

Sarah H, Ashburton
Cherrytree has everything we need for the home and the family, from tramping gear to televisions, to food for our pets.
And it's all mid to high-end brands so we're able to buy really good quality without having to shop around for sales.

Nick B – Remuera
I think the Cherrytree concept is absolutely fantastic.
I'm sure you will revolutionise the way people shop in the future.

Raymond W, Waikato
"Cherrytree... what can I say , it's saved my life !!!!!!!
The whole setup is a fantastic service and I have been using more and more!
It just makes the whole shopping experience much more pleasant..
Where else can you sit and enjoy a great cup of free REAL!! coffee (none of this instant stuff ) and have the choice of pretty much anything under the sun!!!
And what's even better is the fact that im getting it at wholesale!!!! no extra costs!!!!!
And no need to walk in to shop after shop after shop!!
Thanks again guys the service was impeccable and I cant wait to come back......

Kevin & Shelley P, Waikato
I would like to say that as the partner of a shopper-holic Cherrytree is the best thing I have seen in years, the price you pay is much cheaper than you would pay for the same items in the normal shop, and you do not have to deal with the crowds you would normally get when shopping at sales to get similar discounts, and guys you will not have to be dragged around the shops as the shopping is all done through catalogues or the website, you can chill out and read a mag or have a coffee in the members lounge while the missus does her thing, Brilliant!!
And the best part is it saves you $$$$$$