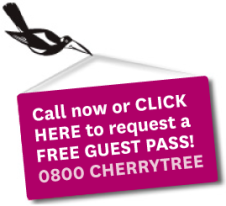 Frequently asked questions
What is Cherrytree?
Can I shop at Cherrytree if I'm not a member?
Why do I have to pay fees to shop at Cherrytree?
Can anyone join?
How soon can I make my money back?
What do I get for my membership?
Can I suspend my membership if I am going away on holiday?
Can I purchase a membership as a gift?
Is it just cheap brands or old stock?
There must be a catch. How can you offer everything so cheaply?
How can I shop at Cherrytree?
Is Cherrytree a new concept?
How do I sign up or find out more?
Can I visit the showroom and see products on display?
Why do people belong to Cherrytree?
What about product warranties?
How long does it take for my order to arrive?
How much is membership?
How can I pay?
Can I bring the kids along while I shop at the showroom?
It sounds like Cherrytree could save my business some money – do you have corporate memberships?
How do I know I'm getting a great deal?
Why does Cherrytree use Recommended Retail Prices (RRP) as a comparison?
Got another query?

What is Cherrytree?
Cherrytree is a wholesale buying club, where members can buy almost anything for their home, the kids and their pets, accessing the wholesale+ price. In total, Cherrytree supplies over 500,000 products and only sells mid to high end branded goods. Members get quality as well as great value – without having to shop around for the best bargains.
∧ Back to top
Can I shop at Cherrytree if I'm not a member?
No, sorry. Just like a gym or golf club, Cherrytree is a membership organisation.
∧ Back to top
Why do I have to pay fees to shop at Cherrytree?
Cherrytree sells goods at the supplier wholesale price plus a handling fee of up to 11% and GST. We charge a membership fee to cover our business costs.
∧ Back to top
Can anyone join?
Yes, Cherrytree welcomes all applications for membership.
∧ Back to top
How soon can I make my money back?
This will obviously depend on what you buy. Many members purchasing products with high retail margin recover their membership fees with savings in the first three to six months. Some members even save their subscription in the first purchase they make!
∧ Back to top
What do I get for my membership?
One membership covers a husband and wife (or partners) living at the same address, plus any children in the household up to the age of 21. Your membership is nationwide, so you can use any of our Club facilities around the country. Benefits of membership include access to:
Confidential wholesale+ pricing on all of the brands and products supplied by Cherrytree. Our members buy at the supplier wholesale price plus a handling fee of 11% or less and GST, plus any applicable freight.
Discounts at a range of nationwide retailers including Resene Paints, PlaceMakers, Mobil petrol plus many others.
A member to member service directory – find a plumber, builder or lawyer! If you own your own business you can advertise your products or services free of charge on our internet directory; it's a bit like a Yellow Pages for our members. The only proviso is that you offer fellow Cherrytree members at least a 10 percent discount or equivalent.
Cherrytree showrooms around the country (with the best tea and coffee – on the house of course!)

∧ Back to top
Can I suspend my membership if I am going away on holiday?
Yes, you can suspend your membership if you are going overseas, for a minimum of three months. We simply put your membership on hold and you pick it up again where you left off when you return.
∧ Back to top
Can I purchase a membership as a gift?
Absolutely. A Cherrytree membership makes a great Wedding, Birthday or Christmas gift! Simply call us on 0800 Cherrytree ( 0800 243 779 ) to arrange this. Membership is also great for staff rewards and incentives, and wedding registers.
∧ Back to top
Is it just cheap brands or old stock?
Absolutely not! We only supply mid to high end brands to ensure quality and our product is all current range.
∧ Back to top
There must be a catch. How can you offer everything so cheaply?
Because our business model literally turns the traditional retail model on it's head! Cherrytree operates by selling memberships and maintaining the loyalty of our members. That way, we can sell products at the wholesale price plus a maximum 11% handling fee, any applicable freight (plus GST of course). It's as simple as that.
∧ Back to top
How can I shop at Cherrytree?
You have a number of choices:
In person at one of our Club showrooms
Over the telephone
Online, via our internet site
By email

∧ Back to top
Is Cherrytree a new concept?
No, Cherrytree has been around since 1996 when the first Club opened in Auckland. Consumer clubs, like Cherrytree, have been operating in some countries (like the US) since the 1970's.
∧ Back to top
How do I sign up or find out more?
Come along to one of our tours or arrange for a one-to-one visit. Just call us on 0800 Cherrytree ( 0800 243 779 ), or complete the form on the join page and we'll be in touch.
∧ Back to top
Can I visit the showroom and see products on display?
Yes. Just book in to one of our tours or arrange for a one-to-one visit.
∧ Back to top
Why do people belong to Cherrytree?
There are lots of reasons Kiwis become members of Cherrytree. The main one is savings - of both money and time!
Convenient – Cherrytree offers a one-stop-shop option as you can buy most of your home products from the one place. It's like being in a shopping mall without having to walk from store to store! Because you're accessing the wholesale price on every item, you don't have to trawl the stores looking for specials or sales.
Quality – Lots of our members love the fact that they can buy better quality products than they couldn't otherwise afford. It's department store products at discount store prices!
Easy – Our members love that they can shop over the phone, on the internet, or in the comfort of our Club showrooms (with free tea or coffee!). A stress free, family friendly shopping environment.

∧ Back to top
What about product warranties?
Because we get our products from the same suppliers that supply the major retail stores, they come with the same manufacturers' warranties. If you have any problems just contact us (like you would a retail store) and we will arrange for repair or replacement.
∧ Back to top
How long does it take for my order to arrive?
Most products arrive at your local Club 1 to 4 days following your order. Typically, delivery to your selected address will be between 3 & 7 days. If the supplier is Out of Stock we will contact you as soon as possible with alternative options. Products that are custom made, e.g. lounge suites, will obviously take longer, just as they would in retail stores.
Cherrytree makes no warranties or representations that goods purchased through Cherrytree will be delivered within the estimates provided, and that while Cherrytree endeavours to have all goods delivered within the times specified, the times specified are estimates only. Please advise us at the time of ordering if you require the item(s) within a specific time period.
∧ Back to top
How much is membership?
There are various levels of and ways to pay for membership and these are explained when you come for a tour of your nearest club. If you have some items that you are interested in comparing prices, please bring these with you and if you are interested in joining, we can compare the prices against our transparent wholesale+ prices.
∧ Back to top
How can I pay?
We accept Visa, Mastercard, QCard, Eftpos, cheque, cash, GEM Visa and GE Creditline Card. We also accept Bartercard for membership payments in the Wellington and Christchurch Clubs.
∧ Back to top
Can I bring the kids along while I shop at the showroom?
Absolutely. All of our Clubs have a kids' play area and baby change facilities.
∧ Back to top
It sounds like Cherrytree could save my business some money – do you have corporate memberships?
Yes, as a member you can purchase products for your business (if you're the owner). You can also advertise your business to other Cherrytree members via our website – which means your membership fees are tax deductable. Some businesses also buy a number of memberships to gift to their staff. Talk to us about how you can save on the standard fees by buying multiple memberships.
∧ Back to top
How do I know I'm getting a great deal?
All the products we sell are available to be purchased in retail stores throughout New Zealand so you can easily compare products and prices. We are also members of New Zealand's largest independent buying group of around 100 stores throughout the country. This helps us to obtain better wholesale pricing in areas like whiteware, home appliances, TVs and home electronics, which tend to be competitively priced in retail.
∧ Back to top
Why does Cherrytree use Recommended Retail Prices (RRP) as a comparison?
More than 500,000 products are available through Cherrytree. It would be almost impossible for us to collect information about the "average" price for each good we sell, and then compare our price against that. For this reason, we compare our prices with the manufacturer's Recommended Retail Price (RRP) for the goods, which is more readily available.
The RRP of a product is set by the manufacturer to try to standardise the price at which consumers will actually buy the product. Most retailers price their goods pretty close to the RRP (some above, and some below – especially when a product is on 'sale'), but retailers are free to sell the product at any price they choose. The difference between Cherrytree and other retailers, is that other retailers' starting point is the RRP and they might choose to go lower, whereas our starting point is the wholesale price, and we add a maximum of 11% as a handling fee and any applicable freight (and GST of course).
∧ Back to top
Got another query?
Call us on 0800 Cherrytree ( 0800 243 779 ) today, or send your query using the form on this website.
∧ Back to top